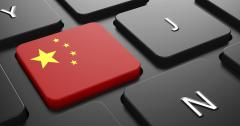 Related WUBA UPDATE: Pacific Crest Securities Reiterates On 58.com Following Strong Results/Guidance Market Wrap For May 22: Markets Barely Positive Related DANG Mid-Morning Market Update: Markets Gain; FactSet Posts Rise In Revenue Should Amazon Investors Be Worried About Alibaba? - Analyst Blog
Internet companies based in China were on a tear Thursday, with precious little news available to explain the trend.
Online marketplace provider 58.com Inc. (NYSE: WUBA) lead the trend with gains of 13.55 percent, trading at $52.11.
E-Commerce China Dangdang Inc. (NYSE: DANG), which offers Chinese language book,s gained 6.39 percent to $12.98.
Chinese Internet provider NQ Mobile Inc. (NYSE: NQ) gained nearly five percent to $6.35.
Youku Tudou Inc. (NYSE: YOKU), an online marketer, gained 4.14 percent to $22.90.
And online television company Tencent Holdings Ltd. (OTC: TCTZF) picked up 2.6 percent, to trade at $15.28.
Posted-In: China Chinese Internet Companies InternetNews Emerging Markets Rumors Markets Tech
© 2014 Benzinga.com. Benzinga does not provide investment advice. All rights reserved.
Most Popular Why Are Shares Of 3D Systems Up? SEC Seeks To Eliminate Fractional Trading Now That The 'Little Guy' Is In Apple, Time For The Flush Will GoPro's Pricing Leave Investors Smiling? Twitter Shares Trend Higher Amid GoPro IPO 10 Reasons To Give Marissa Mayer A Break Related Articles (DANG + NQ) Chinese Internet Companies See Broad Gains Thursday Mid-Afternoon Market Update: FMC Slips On Weak Outlook; Integrys Energy Shares Surge Mid-Day Market Update: FMC Slips On Weak Outlook; Integrys Energy Shares Surge Mid-Morning Market Update: Markets Edge Lower; Oracle To Acquire Micros For $68/Share Mid-Afternoon Market Update: Oracle Shares Fall; Shire Shares Climb Mid-Day Market Update: Oracle Drops On Downbeat Results; Shire Shares Climb