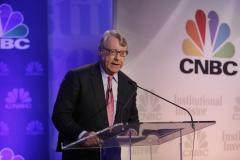 The iShares MSCI Brazil Capped ETF (NYSE: EWZ) traded slightly higher in late trading Tuesday even after noted short-seller Jim Chanos, founder of Kynikos Associates, indirectly reiterated his bearish view on EWZ's two largest holdings.
Speaking at the Bloomberg Markets 50 Conference, Chanos responded to a question from Bloomberg's Tom Keene about how to play the recent bounce in emerging markets by saying "I'm looking at Petrobras."
Related: As Dalio Dances Dangerously With Brazil, Chanos Smiles.
That may not be a direct bearish call on Petrobras (NYSE: PBR), Brazil's state-owned oil giant, but it was less than a year ago at the Ira Sohn Conference that Chanos called Petrobras and Vale (NYSE: VALE), the world's largest iron ore producer two of his favorite shorts.
Chanos told attendees at Ira Sohn that every dollar Petrobras brings in is flowing back out, but that production is declining. A recent auction for licenses to explore Brazil's Libra field was disappointing as some of the largest U.S. and European oil companies opted not to participate due to high production costs and difficulties in working with the Brazilian government.
Chanos added that the Bloomberg conference that countries with exposure to iron ore are in trouble over the next 12 months. Two Petrobras and two Vale securities combine for nearly 22 percent of EWZ's weight.
On Monday, in what was generally a bullish assessment of emerging markets, JPMorgan told investors to stay away from sectors that are value traps, a group that includes Brazilian banks, according to Bloomberg. Financial services is EWZ's largest sector weight at 27.6 percent.
EWZ, the largest Brazil ETF with nearly $6.2 billion in assets under management, is up almost 12 percent in the past month.
For more on ETFs, click here.